Tennis For All Ages and Skill Levels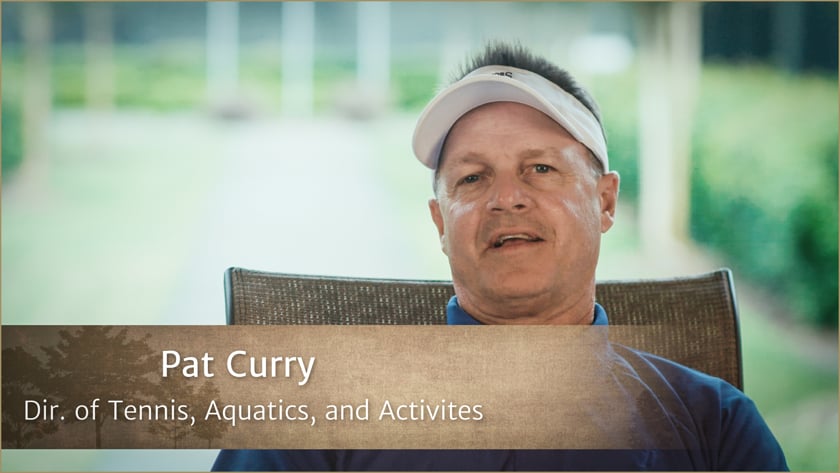 Pat Curry, Tennis Director
With eight lighted tennis courts, Governors Towne Club has a variety of year-round tennis programming and offerings perfect for all ages and skill levels.
For our more competitive members, Governors' active USTA and ALTA as well as friendly leagues creates fun learning and tournament experiences throughout the year. Not quite ready to hit the big leagues? Governors Towne Club offers a variety of themed tennis mixers, junior programs, summer camps, as well as private lessons for all ages taught by our USPTA Certified Tennis Pro.
Tennis lessons are offered for all level players and all ages. Please call Pat Curry at or email  GTCtennis @ governorstowneclub.com
About Our Tennis Director
After working as an independent teaching pro in the Atlanta area and as Head Tennis Professional at a variety of clubs in the North Atlanta areas, Pat Curry joined the Governors Towne Club in 2008. Pat Curry currently holds a Professional 1 rating in the USPTA.
Curry first wanted to become a tennis-teaching pro when he started to teach part time in the summers at Saddle Creek Tennis Club in Roswell, Ga while attending West Georgia College in Carrollton, Ga.
After his first summer of teaching tennis, Curry knew he wanted to become a certified tennis professional and run a tennis-teaching business. Pat continued teaching summer camps at Saddle Creek through graduation from West Georgia College where he played number 2 singles and number one doubles his senior year. Pat advanced to both the singles and doubles conference finals during his college career.
After graduating in 1987 with a bachelor of business administration in accounting, Pat began teaching as an independent professional, going to different subdivisions and teaching students of all ages and levels As a player, Pat was ranked number one in the state of Georgia in Men's 25 singles in 1990. Pat has also taught many Atlanta Lawn Tennis Association (ALTA) and USTA teams. ALTA is the largest city tennis association in the world, with more than 80,000 people playing in different leagues.
Pat has been voted Independent Pro of the Year twice by the Georgia Professional Tennis Association in 1989 and 1995.